It's happened to the best of us. Even with careful use of high-quality styling tools, the care of an expert colorist, and salon-quality products, you can end up with damaged hair.
My hair was severely damaged by a combination of heat, chemicals, and environmental factors but I avoided a nearly inevitable pixie cut by following a few specific techniques. Read on to learn what worked and what didn't.
How does hair get damaged?
I've been highlighting my hair for as long as I can remember. I've also been styling it with heat tools like a CHI flat iron or curling iron for at least 10 years. Even with all that, my hair had always been smooth and healthy…until one day.
Unknowingly, I attacked my hair with about the worst combination of assaults possible.
We were on vacation at the beach and had spent all day playing in the sand and the sun. That evening, we had scheduled a photo shoot for the whole family so of course, we had to go in, get a shower and get photo-ready quickly.
Knowing the vacation photo session was coming, I scheduled an appointment with my stylist before we left to freshen up my highlights and balayage.
In my hustle to get ready, I blow dried my hair on high heat and then began to curl it right away. In that humid environment, the hair wasn't completely dry so the styling tool cooked steamed it with instant high heat and evaporation.
My hair looked great in the photos, see:
But a few weeks later, I noticed it feeling REALLY dry.
Before long, my hair felt like HAY. It was dry, crinkled (singed), and stuck straight out instead of drooping like hair is supposed to do. It looked and felt like dry grass.
I couldn't stand it! I ending up wearing my hair in braids or clipped up almost every day because I didn't want to touch or feel my hair.
No one seemed to notice how bad it looked, but I think they were just too nice to say anything! I mean, people comment when your hair looks awesome, but whoever says "hey, why does your hair look like grass?"
The problem with my hair was that I had hit with the perfect storm of damaging behaviors.
Heat damages hair.
Of course we all know heat can damage your hair. My hair had that singed look that happens if you get your hair too close to a candle. It was bunched up and crinkled.
At first I couldn't understand why my hair was so burned. I was using the exact same styling tools that I had used for years.
But, I used them differently than usual. In my rush to style my hair, that day, I used the blow dryer too close, on too hot a setting. And then I followed it up with a heat styling tool (curling iron) while the hair still had some dampness in it.
To prevent damage, air dry when possible or blow dry on medium heat. Then blast your hair with cool to check if it's totally dry.
I try to blow dry my hair before I do my makeup and then allow my makeup time to be the final dry of my hair. That way I know all the humidity and moisture from the water has evaporated out of my hair before I apply a curling iron.
If you see steam coming out of your curling or straightening iron, your hair still has water in it and you need to give it a little more drying time.
Chemicals damage hair.
I'm a big fan of chemical hair styling. I've had perms, all over color, highlights, low-lights, balayage and just about everything imaginable, but all that chemical styling can do a number on your poor hair.
Now, if I know I have a salon sesh on the calendar, I give my hair special attention before and after.
I like to do a deep conditioning the night before to help heal any damage and lock in some moisture before chemical treatments.
Also, it's important to use professionals for color OR at least let your stylist know if you've been using boxed color treatments. The processes affect your hair differently and it can not only damage your hair, it can really impact the way the color comes out.
Trust me, your stylist would rather know you've been hitting the color aisle than to ruin your hair.
Environmental factors can damage hair.
Environmental factors such as hard water and too much sun can be drying to your hair.
Although this doesn't cause long-term damage on it's own, it does weaken the hair and make it more susceptible to damage.
Have you ever noticed that when you go on vacation, your regular shampoo and conditioner don't leave your hair feeling the way it usually does? That's the impact of different water mineral levels.
In my case, the hard water of the beach town combined with the salt water from the ocean and the sun put my hair at risk for sizzling.
At Home Treatments for Damaged Hair
My first attempt to fix my hair was with at-home hair treatments. I tried drugstore conditioners and masks but didn't see much difference.
Then I came across a blog post talking about product buildup on hair. Ooooh…now there's something I hadn't thought of.
When you have product build up on your hair, it can keep the hair from absorbing the moisture that you apply.
Armed with that knowledge, I first set about stripping the nasty product buildup off my hair before I tried the at-home hair mask.
To strip buildup, I mixed up a baking soda hair mask of 2 parts baking soda and 1 part water. Depending on your hair thickness and length, you may need more or less of this. Completely cover your hair and let this sit for 20-30 minutes. Turn on a tv show or something.
[mv_create key="7″ type="diy" title="How to Strip Product Build Up From Hair" thumbnail="https://momshavemorefun.com/wp-content/uploads/sites/7939/2020/02/Fix-Dry-Damaged-Hair.jpg"]
Rinse the baking soda off your hair and then pour 1-2 cups of apple cider vinegar over it. Let that sit for a little bit and then rinse.
After your hair buildup is stripped, apply a nourishing hair mask.
I mixed together honey and coconut oil and left it on overnight.
You can also add an egg to the mask, but I wouldn't leave that on overnight. It could get smelly! If you're going to add an egg or avocado, leave the mask on for about 30 minutes. Open the hair follicle by turning your warm blow dryer on to your shower cap or hair towel for the first 10 minutes of your mask time.
Rinse the mask off and notice how dramatically different your hair is!
[mv_create key="8″ type="diy" title="Deep Conditioning Hair Mask for Damaged Hair" thumbnail="https://momshavemorefun.com/wp-content/uploads/sites/7939/2020/02/DIY-Hair-Mask-for-heat-damaged-hair.jpg"]
Products for Damaged Hair
Even after using all the at-home treatments, my hair still wasn't as healthy as it had been before. It wasn't terrible, but it was very susceptible to damage.
My stylist gave me several products to try, but even though I used them, I didn't see much difference.
I had about decided I was going to give up and get a pixie cut. Literally, I spent hours searching Pinterest for look and getting myself used to the idea.
Then a miracle happened.
This arrived on my doorstep.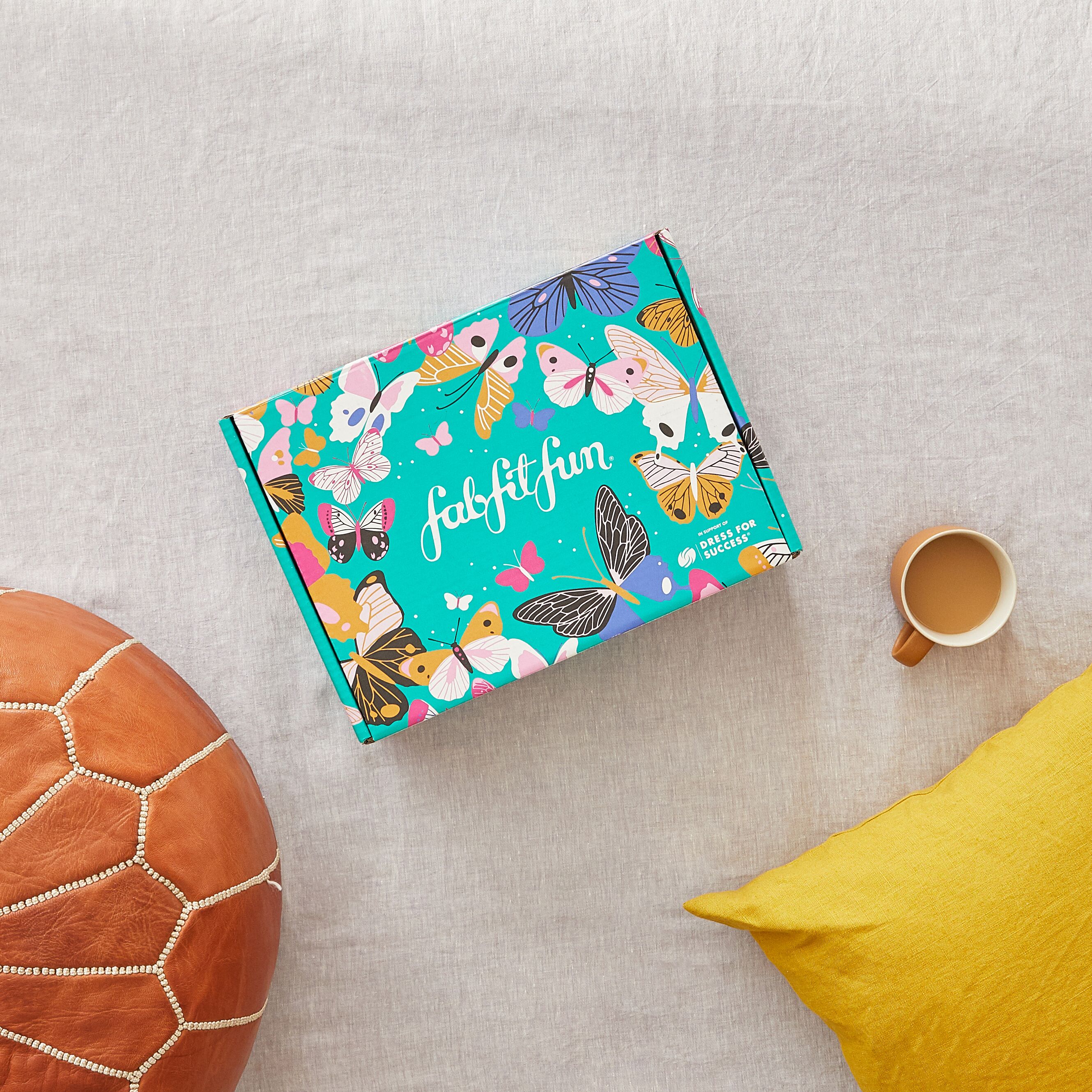 FabFitFun is a subscription box that arrives 4 times a year. You can customize your box before it arrives and pick which full sized products you want to receive, plus, there's always a few surprises.
It's so much fun!
It's like giving yourself a surprise present 4 times a year. The best!
Well, this came right after I moved and in the moving process, I had neglected to log in and customize my box, so I had NO IDEA what was in my FabFitFun box this month.
I opened it up to find lots of lovely fun things to use, but this one product made my heart soar with hope.
Aveda Damage Remedy

I washed my hair as usual and applied this product and let my hair air dry.
MIRACLES!!
My hair felt like real hair again, not dried grass, not hay, not slightly moisturized grass…hair.
After 2-3 uses, I noticed an enormous difference. Though my hair wasn't 100% healed–it would still easily get dried feeling if I mistreated it–it was dramatically restored.
Aveda Damage Remedy sells for $31 but you can get it from FabFitFun for WAY LESS!
This past month, when I was customizing my FabFitFun box, I noticed that this product was available as an add-on item for just $7.
A FabFitFun seasonal box is $49.99, but I am offering a discount code for my readers to get $10 off. Just input SPRINGLOVE at checkout to get your box for only $39.99
Each box has over $200 worth of full-sized customizable products just for you. You never know what kind of wonderful surprises you might get that will change your life!!
Styling Tips for Damaged Hair
After I finally healed my hair with the help of FabFitFun, I found that certain styling techniques hurt or helped my hair.
Avoid high-heat. I almost never use the high-heat setting on my blow dryer anymore and if I do, I'm careful to keep the dryer away from the ends of my hair.
Air dry whenever possible. I prefer to shower at night and let my hair dry overnight, or shower early in the morning, several hours before I need to be anywhere. I'm a stay-at-home mom so this works for me!
Never use a curling iron or straightener on damp hair!
Wet your hair with fresh water before swimming–salt water and chlorine are damaging!
Keep the ends out when you curl your hair. I always start my curls at the roots and let the ends just dangle.
Regularly deep condition.
Use a heat-protectant product before heat styling!
Give It Time and Grace
One thing I learned was to allow myself the grace to deal with damaged hair. Yep, I messed up in my styling and abused my hair, but y'know what? That's okay. I'm allowed to make mistakes.
Fortunately, I have the information and ability to solve the issue or at least remedy it as much as possible. Just give it time.
With patience, gentleness, and dedication, you will get your hair back to normal. You can do it! You deserve to love your hair!

Love and luscious locks,
Stina